International Oscar Race: Australia Selects 'When Pomegranates Howl'; Argentina Picks 'The Intruder'
By Tom Grater – Senior Reporter & Deputy Film Editor, International @tomsmovies – Deadline
October 25, 2021 2:09am
Australia is sending Granaz Moussavi's When Pomegranates Howl to the Academy as its submission for this year's International Oscar race.
The Australia-Afghanistan co-production, from Iranian-Australian filmmaker Moussavi, is an anti-war drama. Shot in Afghanistan, the story follows Hewad, an irrepressible nine-year old boy who hustles on the streets of Kabul – selling everything from pomegranate juice to protection from the evil eye.
The film is up for Best Youth Feature Film at the 2021 Asia Pacific Screen Awards, which announces November 11.
Separately, Argentina has selected Natalia Meta's horror-thriller The Intruder as its entry.
The film debuted at Berlinale last year. It is the story of Inés, a young woman who after a traumatic episode during a trip with her partner begins to confuse herself between the real and the imaginary.
Producers on the movie are Rei Cine and Picnic Producciones, with co-producers Infinity Hill and Barraca Producciones, in association with Piano, Televisión Federal (Telefe) and Viacom International Studios. Disney released locally.
Read the article here.
---
THE INTRUDER (EL PRÓFUGO) SUBMITTED BY ARGENTINA AS BEST INTERNATIONAL FILM
Written and directed by Natalia Meta
Starring Erica Rivas,
Nahuel Pérez Biscayart and Daniel Hendler.
Special guest star Cecilia Roth.
Guillermo Arengo, Agustín Rittano, Gabriela Pastor, Flor Dyszel and Mirta Busnelli.
Available in HBOMax in the US.
THE INTRUDER (EL PRÓFUGO) was selected by the Argentinian Academy of Motion Pictures Arts and Sciences as its official entry in the International Feature Film category at the upcoming Academy Awards.
The film, released locally in September 30, was written and directed by Natalia Meta, headlined by Erica Rivas, Nahuel Pérez Biscayart and Daniel Hendler, with special guest star Cecilia Roth, alongside Guillermo Arengo, Agustín Rittano, Gabriela Pastor, Flor Dyszel and Mirta Busnelli.
The whole filmmaking team of the film wish to thanks the members of the Argentinian Academy of Motion Pictures Arts and Sciences for the opportunity to share a movie directed by a female filmmaker.
Natalia Meta, helmer of The Intruder, said: "I´m extremely happy and touched by the selection and the fact, that after lockdown, local films were able to return to the cinema screens. I hope this will open more venues for Argentine features and will drive a wider audience to film theaters".
The movie was produced by Benjamín Domenech, Santiago Gallelli and Matías Roveda from Rei Cine, in co-production with Picnic Producciones and in association with Infinity Hill, Piano, Barraca Producciones, Viacom International Studios and La Bestia Equilátera. It was distributed in Argentina by Star Distribution, international sales rep is Film Factory and it is currently available in the US in HBOMax.
"We want to fully thanks the Academy and its members for their support. We feel proud to become ambassadors of our country's film industry. Working with Natalia Meta and this outstanding group of actors, team and producers it is a privilege on its own".-added producer Benjamín Domenech from Rei Cine.
"We are ecstatic of having the chance to support Natalia Meta´s vision on personal and amazing film about identity. Joining her, Rei Cine and an awesome group of producers, a dreamy cast and a remarkable team is an act of pure joy. We want to thanks the Academy's full membership for this opportunity".-said producer Axel Kuschevatzky, from Infinity Hill.
The highly regarded film got excellent reviews, underlining the work of Erica Rivas, the cast, the directorial choices and the use of sound in a unique brand of thriller, te sophomore feature of the helmer that finds new ways to explore the genre.
Written and directed by Natalia Meta, The Intruder, combines thriller elements with some rom-com elements to create and unique take on the notions of sexuality. Inspired by the cult novel El Mal Menor, written by C.E. Feiling, the film tells the story of Inés (Erica Rivas), a chorus singer who dubs movies that, on vacations with her boyfriend, goes throughout a traumatic experience that alters her perception of reality.
The movie had it international premiere at the Oficial Competition at the 2020 Berlin International Film Festival. It was also screened at the San Sebastian International Film Festival, the Karlovy Vary International Film Festival, the La Habana International Film Festival and the BFI London International Film Festival, among many others.
THE INTRUDER (EL PROFUGO)
Genere: Thriller
Length: 94 minutos.
Writer and director: Natalia Meta.
Collaborating writer: Leonel D'Agostino
Produced by: Rei Cine, Picnic Producciones.
Starring: Erica Rivas, Nahuel Pérez Biscayart y Daniel Hendler. Special guest star Cecilia Roth. Guillermo Arengo, Agustín Rittano, Gabriela Pastor, Flor Dyszel and Mirta Busnelli.
Producers: Benjamin Domenech, Santiago Gallelli, Matías Roveda, Natalia Meta, Fabiana Tiscornia.
Co-producers: Axel Kuschevatzky, Lorena Villarreal, Julio Chavezmontes.
Associated: Phin Glynn, Cindy Teperman, Luz Orlando Brennan, Ariel Rotter, Verónica Cura.
Cinematographer: Bárbara Álvarez.
Editing: Eliane Katz (SAE).
Production design: Aili Chen.
Sound: Guido Berenblum (ASA).
Original score: Luciano Azzigotti.
Line producer: Mercedes Tarelli.
First ADs: Adriana Vior, Marcello Pozzo.
Casting: Mariana Mitre, Laura Paredes.
Wardrobe design: Mónica Toschi.
Make up: Emma Miño.
Hair: Silvina Paolucci.
International sales: Film Factory
Press materials:https://drive.google.com/drive/folders/1IEdsUSMRlzxgBes4KgzncYyQiMcPQcgp?usp=sharing
Playlist Spotify "El Prófugo": https://open.spotify.com/playlist/59xCJVoCpW04nY2qF09BC4?si=0732a9a7b0a74f8f
Anna Paquin and Ray Winstone to Star in 'A Bit of Light,' Directed by 'True Blood's Stephen Moyer
By Britta DeVore October 12, 2021 – Collider
The film will be the second directorial feature for Stephen Moyer.
Deadline reports that Oscar winner AnnaPaquin(TrueBlood) and Ray Winstone (BlackWidow) will be spearheading the cast of A Bit of Light, which will be directed by Stephen Moyer. Moyer, who rose to fame playing vampire Bill Compton on the hit HBO series True Blood, will be making his sophomore feature with A Bit of Light, after his directorial debut in The Parting Glass (which also starred Paquin).
In addition to his film directing background, Moyer also directed several episodes of True Blood as well as the Amazon show, Flack. Adding to the talent will be Youssef Kerkour (Home), who is a BAFTA nominee, and Pippa Bennett-Warner (Gangs of London).
Moyer said about working on A Bit of Light:
"From the moment I started reading A Bit of Light I knew I wanted it to be my second film. It is a stunning piece of writing by my old friend Rebecca Callard whom I first met 25 years ago playing opposite each other as actors. We've assembled a quite extraordinary cast led by Anna and Ray who are wonderful together. I can't wait to get into the edit"
Written by Rebecca Callard, and based on her own stage play, the film follows Ella (Paquin) who is newly sober and currently living with her father, Alan (Winstone). Ella has been forced to give up custody of her young daughters for the time being as they are now staying with Ella's ex-husband, Joseph (Kerkour), and his new partner, Bethan (Bennet-Warner). Living in this new, scary world, Ella becomes friends with an unlikely person – a teenage boy played by Luca Hogan. With the help and support of this young man, Ella starts to put the pieces of her life back together.
There is currently no release date set for A Bit of Light.
You can read the article here.
---
Anna Paquin & Ray Winstone Starring In Stephen Moyer-Directed 'A Bit of Light'
By Tom Grater – Deadline.com – October 12, 2021
EXCLUSIVE: Oscar winner Anna Paquin and International Emmy winner Ray Winstone are leading the cast of A Bit of Light, the sophomore feature from director Stephen Moyer, who is best known for playing vampire Bill Compton in HBO series True Blood.
Pippa Bennett-Warner (Gangs of London) and BAFTA nominee Youssef Kerkour (Home) are also starring in the movie, which is now shooting in the UK. Deadline can reveal a first image from the set above.
The film was written by Rebecca Callard, based on her own stage play. It follows Ella (Paquin), now living with her father Alan (Winstone) and newly sober having temporarily given up custody of her young daughters to her ex-husband Joseph (Kerkour) and his new partner Bethan (Bennett-Warner). She strikes up an unlikely friendship with a mysterious teenage boy (newcomer Luca Hogan) whose belief in her as a mother helps her rediscover her self-worth.
Moyer, who also helmed several episodes of True Blood as well as Amazon show Flack, made his feature directing debut on The Parting Glass, which also starred Paquin.
Phin Glynn and Axel Kuschevatzky are producing A Bit of Light through their Infinity Hill banner, alongside Moyer and Paquin with Isabelle Georgeaux producing through her production company Pont Neuf Productions. The project is an Infinity Hill and Pont Neuf Productions film, produced in association with Shorelight Pictures and Great Point Media.
Executive Producer's include Anja Murmann and Sabine Schenk of Shorelight Pictures, Egor Noskov, Victor Glynn and Geoff Iles of GCB Films and Rebecca Callard, as well as Jim Reeve and Robert Halmi of Great Point and Cindy Teperman of Infinity Hill.
The film was packaged and financed by Janne Barklis and Jay Cohen of Gersh and ICM Partners. They will co-rep the sale of the film.
Moyer said: "From the moment I started reading A Bit of Light I knew I wanted it to be my second film. It is a stunning piece of writing by my old friend Rebecca Callard whom I first met 25 years ago playing opposite each other as actors. We've assembled a quite extraordinary cast led by Anna and Ray who are wonderful together. I can't wait to get into the edit."
"We're delighted to be working with such an amazing and inspiring team, supporting Stephen's unique and personal vision", jointly said the producers. "We are privileged to have Anna and Ray bringing warmth, tenderness and depth to this unique story of love and redemption. Youssef, Pippa and Luca round out the cast, adding vivacity to the film".
Anna Paquin is repped by Leslie Siebert at Gersh, Ray Winstone is repped by Michael Wiggs and Lucy Doyle at Creative Artists Management, Youssef Kerkour is repped by Nick Errington at Grantham-Hazeldine, Pippa Bennett-Warner is repped by Independent Talent, CAA and Luber Roklin Entertainment, Luca Hogan is repped by Carleen McCarthy at Alphabet and Stephen Moyer is repped by ICM Partners and Luber Roklin Associates.
Yo can read the article here.
---
Amazon Studios Sets First Argentine Original Film: Ricardo Darin Starrer 'Argentina, 1985,' from Santiago Mitre (EXCLUSIVE)
John Hopewell (Variety) – Aug 25, 2021
Amazon Studios, La Unión de los Ríos, Kenya Films and Infinity Hill have teamed to produce Argentina's first Amazon Original film, Santiago Mitre's "Argentina, 1985," which looks set to become a banner Argentine big fest title and release in 2022.
Headlining arguably the foremost Argentine stars of their generations – Ricardo Darín ("The Secret in Their Eyes," "Wild Tales") and Peter Lanzani ("The Clan") – the feature film has just started shooting in Argentina.
It focuses on an extraordinary but real life event of which Argentineans can feel proud: the true story of how a public prosector, Julio Strassera, a young lawyer, Luis Morena Ocampo, and their inexperienced legal team dared to prosecute the heads of Argentina's bloody military dictatorship in a battle against odds and a race against time, braving bomb and death threats.
The so-called Trial of the Juntas is described as the biggest prosecution process for war crimes since the 1946 Nuremberg Trails after WWII.
"Argentina, 1985" is directed and co-written by Mitre, one of Latin America's most highly-regarded film directors whose feature debut, 2011's "The Student," brought him instant attention and a Special Jury Prize in Locarno's Cineasti del Presente. Mitre's"Paulina" won Cannes 2015 Critics' Week Grand Prize.
Co-written by Mariano Llinás ("La Flor," "Extraordinary Stories"), Mitre's career-long co-scribe, "Argentina, 1985" will shoot on the same locations where the real-life action took place. It will receive a theatrical release in Argentina before being made available exclusively on Amazon Prime Video in more than 240 countries and territories.
"Argentina, 1985's" producers are Axel Kuschevatzky, Federico Posternak, Agustina Llambi-Campbell, Ricardo Darín, Santiago Mitre, Santiago Carabante, Chino Darín and Victoria Alonso. Cindy Teperman and Phin Glynn serve as executive producers.
"It's exciting to be part of such an ambitious project that will take audiences on a journey through a pivotal point in Argentina's history," said Javiera Balmaceda, Amazon Studios' head of local originals for Spanish-speaking Latin America.
"The amazing and internationally recognized Argentine cast, director and entire Argentinean production team are sure to bring us one of the most compelling and well-produced of films, that will keep our audience talking."
"We're excited to support Santiago Mitre's unique perspective in this real-life emotional thriller which reflects a trial that changed justice," the producers said. They added. "It's been a joy to work on a project that will finally share this breathtaking Argentinean story all around the world."
Founded in 2011 by producers Agustina Llambi Campbell and Fernando Brom and writer-directors Alejandro Fadel, Martín Mauregui and Santiago Mitre, La Unión de Los Rios has produced all of Mitre's features, plus, among other films, Fadel's "The Wild Ones" and "Murder Me, Monster," both selected for the Cannes Festival.
Kenya Films is Darín's production label, founded in 2016 with son Chino Darín and Federico Posternak. It has co-produced "An Unexpected Love," which opened the San Sebastian Festival, and "Heroic Losers," which won a Spanish Academy Goya for best Latin American film.
Based out the U.K., Los Angeles and Buenos Aires and headed by Kuschevatzky, Glynn and Teperman, Infinity Hill's first productions take in "The Doorman," starring Jean Reno and Ruby Rose, Berlin competition player "The Intruder" and UK prime-time TV hit "Staged," starring Michael Sheen and David Tennant.
Read the article here.
---
David Tennant visits The Late Late Show with James Corden at CBS to talk about Staged.
March 22, 2021
---
Staged, the series exclusively broadcasted by OnDIRECTV
This month of March, OnDIRECTV entertainment channel will broadcast the comedy starring David Tennant and Michael Sheen, all filmed during lockdown. The series will also be available on DIRECTV GO
March, 2021 – OnDIRECTV will be broadcasting Staged as of Thursday, March 11 at 11 PM. The series starring British actors David Tennant (Broadchurch) and Michael Sheen (Masters of Sex) tells the story of their own lives: two actors challenging one another's egos, which in turn challenges everyone to keep play rehearsals on track.
Filmed by videoconference during the lockdown in the United Kingdom, we find David Tennant and Michael Sheen playing the roles of two actors on furlough due to the COVID-19 pandemic, though director Simon Evans persuades them to keep on rehearsing on line while facing home chores and the anxiety of lockdown.
The cast includes guest stars Judi Dench (Shakespeare in Love) and Samuel L. Jackson (Pulp Fiction), among others. Staged is an Infinity Hill production owned by Axel Kuschevatzky, Cindy Teperman and Phin Glynn.
"We couldn't be more pleased to bring this innovative and hilarious series to our viewers," said Willard Tressel, GM of OnDIRECTV. Tressel added, "Argentina's Axel Kuschevatzky, and his partners at Infinity Hill, enlisted two great stars and their friends to produce a series that became an absolute hit in the UK. We have no doubt it will be a Latin America hit, as well."
"We are thrilled by Staged reaching Latin America thanks to our dear OnDIRECTV friends", assures Axel Kuschevatzky, "This our first TV series and, being a company rooted in our region, it feels like being back home. He hope the Latin American audiences have as much fan as we did making it and the UK viewers watching it!".
The 6 episodes of this series will be exclusively broadcast on OnDIRECTV, as of Thursday, March 11 at 11 PM with two episodes. Also available on DIRECTV GO streaming service. The remaining episodes will be broadcasted on the following Thursdays, March 18 and 25 at 11 PM. The full series will later be available as On Demand content, on DIRECTV GO.
OnDIRECTV presents Staged.
As of Thursday, March 11 at 11 PM (channels 201 & 1201 HD)
Also available on DIRECTV GO streaming service!
About DIRECTV
DIRECTV delivers the best entertainment experience. Every day, DIRECTV subscribers in Latin America enjoy 100% digital quality and sound, industry leading customer service, superior technology, unmatched HD content that includes original and exclusive series and complete coverage of the most important sport events, leagues and packages, and the possibility of watching shows and content on different screens whenever and wherever the users want it. For more information, visit directvla.com
About DIRECTV GO
With DIRECTV GO, users can access the best of national and international live and On Demand content how and when they want across devices, such as smartphones, tablets, laptops, computers, or Smart TVs. DIRECTV GO is an over-the-top (OTT) subscription service that offers online access to a variety of programming in different Latin American countries. Includes access to linear, live channels, On Demand and sports content, and premium programming subscription option. DIRECTV GO is a Vrio service offered by its affiliated companies Latam Streamco Inc. in Chile, Colombia, Ecuador, Mexico, Peru and Uruguay, DIRECTV Argentina S.A. in Argentina and Streamco Distribuição de Vídeo Brasil Ltda. in Brazil. DIRECTV GO and the pay TV service DIRECTV are different offers that require independent subscription fees and taxes. DIRECTV GO is available at no additional cost to DIRECTV subscribers in Argentina, Chile, Colombia, Ecuador, Peru and Uruguay as per an agreement with Vrio and DIRECTV's satellite television service providers. More information at: www.DIRECTVGO.com [directvgo.com]. ©️2020 AT&T Intellectual Property. DIRECTV, DIRECTV's logo and all other DIRECTV brands are property of AT&T Intellectual Property and/or AT&T affiliate companies.
---
Interview: Staged's Anna Lundberg and Georgia Tennant: 'Scenes with all four of us usually involved alcohol'
Michael Hogan – The Guardian – Sun 3 Jan 2021
The hit BBC sitcom Staged started when actors and friends David Tennant and Michael Sheen began messing about on Zoom. On the eve of series two, we talk to their scene-stealing partners
Not many primetime TV hits are filmed by the show's stars inside their own homes. However, 2020 wasn't your average year. During the pandemic, productions were shut down and workarounds had to be found – otherwise the terrestrial schedules would have begun to look worryingly empty. Staged was the surprise comedy hit of the summer.
This playfully meta short-form sitcom, airing in snack-sized 15-minute episodes, found A-list actors Michael Sheen and David Tennant playing an exaggerated version of themselves, bickering and bantering as they tried to perfect a performance of Luigi Pirandello's Six Characters in Search of an Author over Zoom.
Having bonded while co-starring in Good Omens, Amazon's TV adaptation of Neil Gaiman and Terry Pratchett's novel, Sheen, 51, and Tennant, 49, became best buddies in real life. In Staged, though, they're comedically reframed as frenemies – warm, matey and collaborative, but with a cut-throat competitiveness lurking just below the surface. As they grew ever more hirsute and slobbish in lockdown, their virtual relationship became increasingly fraught.
It was soapily addictive and hilariously thespy, while giving a voyeuristic glimpse of their interior decor and domestic lives – with all the action viewed through their webcams.
Yet it was the supporting cast who lifted Staged to greatness,Their director Simon Evans, forced to dance around the pair's fragile egos and piggy-in-the-middle of their feuds. Steely producer Jo, played by Nina Sosanya, forever breaking off from calls to bellow at her poor, put-upon PA. And especially the leading men's long-suffering partners, both actors in real life, Georgia Tennant and Anna Lundberg.
Georgia Tennant comes from showbiz stock, as the child of Peter Davison and Sandra Dickinson. At 36 she is an experienced actor and producer, who made her TV debut in Peak Practice aged 15. She met David on Doctor Who 2008, when she played the Timelord's cloned daughter Jenny. Meanwhile, the Swedish Lundberg, 26, is at the start of her career. She left drama school in New York two years ago and Staged is her first big on-screen role.
Married for nine years, the Tennants have five children and live in west London. The Lundberg-Sheens have been together two years, have a baby daughter, Lyra, and live outside Port Talbot in south Wales. On screen and in real life, the women have become firm friends and frequent scene-stealers.Advertisement
Staged proved so successful that it's now back for a second series. We set up a video call with Tennant and Lundberg to discuss lockdown life, wine consumption, home schooling (those two may be related) and the blurry line between fact and fiction…
Was doing Staged a big decision, because it's so personal and set in your homes?
Georgia Tennant: We'd always been a very private couple. Staged was everything we'd never normally say yes to. Suddenly, our entire house is on TV and so is a version of the relationship we'd always kept private. But that's the way to do it, I guess. Go to the other extreme. Just rip off the Band-Aid.
Watch a trailer for Staged series two.
Anna Lundberg: Michael decided pretty quickly that we weren't going to move around the house at all. All you see is the fireplace in our kitchen.
GT: We have five children, so it was just about which room was available.
AL: But it's not the real us. It's not a documentary.
GT: Although some people think it is.
Which fictional parts of the show do people mistake for reality?
GT: People think I'm really a novelist because "Georgia" writes a novel in Staged. They've asked where they can buy my book. I should probably just write one now because I've done the marketing already.
AL: People worry about our elderly neighbour, who gets hospitalised in the show. She doesn't actually exist in real life but people have approached Michael in Tesco's, asking if she's OK.
Michael and David squabble about who's billed first in Staged. Does that reflect real life?
AL: With Good Omens, Michael's name was first for the US market and David's was first for the British market. So those scenes riffed on that.Advertisement
Should we call you Georgia and Anna, or Anna and Georgia?
GT: Either. We're super-laidback about these things.
AL: Unlike certain people.
How well did you know each other before Staged?
GT: We barely knew each other. We've now forged a friendship by working on the show together.
AL: We'd met once, for about 20 minutes. We were both pregnant at the time – we had babies a month apart – so that was pretty much all we talked about.
Did you tidy up before filming?
AL: We just had to keep one corner relatively tidy.
GT: I'm quite a tidy person, but I didn't want to be one of those annoying Instagram people with perfect lives. So strangely, I had to add a bit of mess… dot a few toys around in the background. I didn't want to be one of those insufferable people – even though, inherently, I am one of those people.
Was there much photobombing by children or pets?
AL: In the first series, Lyra was still at an age where we could put her in a baby bouncer. Now that's not working at all. She's just everywhere. Me and Michael don't have many scenes together in series two, because one of us is usually Lyra-wrangling.
GT: Our children aren't remotely interested. They're so unimpressed by us. There's one scene where Doris, our five-year-old, comes in to fetch her iPad. She doesn't even bother to glance at what we're doing.
How was lockdown for you both?
AL: I feel bad saying it, but it was actually good for us. We were lucky enough to be in a big house with a garden. For the first time since we met, we were in one place. We could just focus on Lyra . To see her grow over six months was incredible. She helped us keep a steady routine, too.
GT: Ours was similar. We never spend huge chunks of time together, so it was a once-in-a-lifetime opportunity. At least until David's career goes to shit and he's just sat at home. The flipside was the bleakness. Being in London, there were harrowing days when everything was silent but you'd just hear sirens going past, as a reminder that something awful was going on. So I veered between "This is wonderful" and "This is the worst thing that ever happened."
And then there was home schooling…
GT: Which was genuinely the worst thing that ever happened.
You've spent a lot of time on video calls, clearly. What are your top Zooming tips?
GT: Raise your camera to eye level by balancing your laptop on a stack of books. And invest in a ring light.Advertisement
AL: That's why you look so much better. We just have our sad kitchen light overhead, which makes us look like one massive shiny forehead.
GT: Also, always have a good mug on the go [raises her cuppa to the camera and it's a Michael Sheen mug]. Someone pranked David on the job he's shooting at the moment by putting a Michael Sheen mug in his trailer. He brought it home and now I use it every morning. I'm magically drawn to drinking out of Michael.
There's a running gag in series one about the copious empties in Michael's recycling. Did you lean into lockdown boozing in real life?
AL: Not really. We eased off when I was pregnant and after Lyra was born. We'd just have a glass of wine with dinner.
GT: Yes, definitely. I often reach for a glass of red in the show, which was basically just an excuse to continue drinking while we were filming: "I think my character would have wine and cake in this scene." The time we started drinking would creep slightly earlier. "We've finished home schooling, it's only 4pm, but hey…" We've scaled it back to just weekends now.
How did you go about creating your characters with the writer Simon Evans?
AL: He based the dynamic between David and Michael on a podcast they did together. Our characters evolved as we went along.
GT: I was really kind and understanding in the first draft. I was like "I don't want to play this, it's no fun." From the first few tweaks I made, Simon caught onto the vibe, took that and ran with it.
Did you struggle to keep a straight face at times?
AL: Yes, especially the scenes with all four of us, when David and Michael start improvising.
GT: I was just drunk, so I have no recollection.
AL: Scenes with all four of us were normally filmed in the evening, because that's when we could be child-free. Usually there was alcohol involved, which is a lot more fun.
GT: There's a long scene in series two where we're having a drink. During each take, we had to finish the glass. By the end, we were all properly gone. I was rewatching it yesterday and I was so pissed.
What else can you tell us about series two?
GT: Everyone's in limbo. Just as we think things are getting back to normal, we have to take three steps back again. Everyone's dealing with that differently, shall we say.Advertisement
AL: In series one, we were all in the same situation. By series two, we're at different stages and in different emotional places.
GT: Hollywood comes calling, but things are never as simple as they seem.
David had a bob at one point. Turns out he's got annoyingly excellent hair. Quite jealous
There were some surprise big-name cameos in series one, with Samuel L Jackson and Dame Judi Dench suddenly Zooming in. Who can we expect this time around?
AL: We can't name names, but they're very exciting.
GT: Because series one did so well, and there's such goodwill towards the show, we've managed to get some extraordinary people involved. This show came from playing around just to pass the time in lockdown. It felt like a GCSE end-of-term project. So suddenly, when someone says: "Samuel L Jackson's in", it's like: "What the fuck's just happened?"
AL: It took things to the next level, which was a bit scary.
GT: It suddenly felt like: "Some people might actually watch this."
How are David and Michael's hair and beard situations this time?
AL: We were in a toyshop the other day and Lyra walked up to these Harry Potter figurines, pointed at Hagrid and said: "Daddy!" So that explains where we're at. After eight months of lockdown, it was quite full-on.
GT: David had a bob at one point. Turns out he's got annoyingly excellent hair. Quite jealous. He's also grown a slightly unpleasant moustache.
Is David still wearing his stinky hoodie?
GT: I bought him that as a gift. It's actually Paul Smith loungewear. In lockdown, he was living in it. It's pretty classy, but he does manage to make it look quite shit.
Staged returns to BBC One on Monday 4 January at 9.45pm
Click here to read the article.
---
David Tennant hints at 'bit of a twist' for Staged series two
'Staged' star David Tennant promises "a bit of a twist" for the second series of the BBC One lockdown comedy
The List – Bang Showbiz – 30 December 2020
---
David Tennant has promised "a bit of a twist" for the second series of 'Staged'.
The 49-year-old actor – who stars in the BBC One lockdown comedy with Michael Sheen – has opened up on what viewers can expect for season two.
As quoted by RadioTimes.com, David said: "It's the same set up as before. Michael Sheen and I talking rubbish to each other over the internet from our respective homes, with Georgia and Anna, our other halves, keeping us from becoming too self-indulgent, not always successfully.
"But there is a bit of a twist to it all, which I'm not going to reveal here…"
'Staged' sees the actors playing fictional versions of themselves during the first UK lockdown.
The duo – who also starred together in Amazon Prime Video fantasy series 'Good Omens' in 2019 – are excited for the new series to launch on January 4, and Michael has teased some "surprise" cameos after the likes of Samuel L. Jackson and Judi Dench appeared in the first run.
He added: "We have a lot of amazing surprise appearances which I hope people will enjoy as much as David and I enjoyed doing the scenes with them.
"Having lovely surprises like Judi Dench and Samuel L. Jackson, we have lots more of those surprises in this new series."
The upcoming episodes will see the two actors navigating their 'new normal' at home with their families, while also trying to tackle the world of 'virtual Hollywood'.
Michael previously said: "It's been so great to see how much people enjoyed the first series. Seemed like the laughs were much appreciated.
"It made us really excited about taking it further and going in some surprising and hopefully enjoyable directions this time."
Georgia Tennant – who returns alongside Anna Lundberg, Lucy Eaton, Nina Sosanya and Simon Evans – added: "The prospect of getting my husband back into employment alongside the divine Ben Schwartz and the hairy, Welsh legend that is Michael Sheen all makes me very happy to be back for series two!".
Click here to read the article.
---
Top 10 New TV Shows Of 2020 Part I: Dominic Patten On Some Lockdown, Some Politics, Some Genre Bursting & Some Pretty Deft Moves
SPOILER ALERT: This video contains details of some very good TV series that aired in 2020.
By Dominic Patten – Deadline – December 30, 2020
There is no other way to say it: 2020 has been a horrible year full of great television.
As you can see in the video above, the first part of Deadline's Top 10 New TV Shows of the year has a different tone from the past. Going through my picks for number 10 to 6 this year became much more an appreciation than a celebration.
Now, you have to watch the video to see who made the cut in this first round. However, I will tell you that if you are looking for Tiger King: Murder, Mayhem and Madness, look elsewhere.
Yes, I know it was a touchstone for millions in the early weeks of the coronavirus pandemic. Yet, as my review of April 7 made clear – I hated the Red State porn and exploitation of the blockbuster docuseries from directors Rebecca Chaikin and Eric Goode.
Joe Exotic and crew aside, on this second to last day of our mutual annus horribilis, the fact is it was the small screen that provided a lifeline to the world for many of us in 2020. Cut off from each other in trying to contain a virus that is now spreading faster and deadlier than ever before, TV in all its variants and platforms was both confessor and comfort in what seems like a terrible dystopian drama we are all still trapped in.
With the economy crashing around us due to the fallout from the virus and a distinct lack of national leadership from the now outgoing Donald Trump, offerings from streamers new and old, broadcast and cable provided a reprieve from the bleak news that continues to pile up.
As well, this year of a bitterly fought election saw the rules of game literally change as political fact and fiction merged and went virtual towards a deep-fake future. The Olympics was postponed as live sport disappeared for a while internationally and at home under Covid-19 lockdowns. Production on films and TV came to a halt in mid-March too. One of many results was that suddenly hours of programming was left empty. The equally suddenly, outliners and newcomers flooded in to fill the void.
All of which, as today's list reveals, led to some ambitious faceplants, some blasts from the past and some wonderful surprises.
Keeping with past Top 10 traditions, there'll be more to come on January 1 with Part 2 of our best New TV Shows of 2020. Before that, send me some suggestions you have if you feel like it. As always, you can reach me at dominicpatten@deadline.com or via my Twitter feed at @DeadlineDominic.
Stay safe on NYE and if you have to go out, maintain social distance and please wear a mask.
Click here to see the article.
---
Best TV shows of the year 2020, 10-1: Our no. 1 series revealed
Our countdown of the year's very best small-screen entertainment continues – which series has won the top spot?
Radio Times – December 29, 2012
6. Staged
Available on BBC iPlayer, Netflix and Sky Go
Innovative, funny, and above all, just what we needed, Staged set the standard for lockdown television, striking just the right balance between humour and occasional poignancy. Starring David Tennant and Michael (not Martin) Sheen as exaggerated, comedic versions of themselves, the chemistry and balance between the lackadaisical, peace-making Scot and the rather shouty Welshman is just right.
The premise for season one is that the pair are rehearsing for a play via Zoom, but inevitably their conversations drift towards more pressing topics: chiefly, what time in the day is it acceptable to start pouring out the red wine. – Flora Carr, Drama Writer
Click here to see the article.
---
Column: Most TV made in quarantine was forgettable. But 'Staged' should go in a time capsule
By Mary McNamara, Culture Columnist and Critic – Los Angeles Times, Dec. 29, 2020
Once upon a time, way back in the early days of the pandemic (which is to say eight months ago), many makers of television scrambled to create shows to both reflect the experience of isolation and distract viewers who were experiencing it. Casts of classic shows and films reassembled via Zoom, John Krasinski offered "Some Good News" and A-list music performers remotely created televised concerts. These valiant efforts were closely followed by scripted series with titles like "Love in the Time of Corona" and "Social Distance," which attempted to capture this very strange, scary and creatively unique time. Though novel and welcome, most were fatally ephemeral, even self-consciously so — stopgaps designed, like much of television before streaming, to be enjoyed and then forgotten.
And then there's "Staged," a BBC series starring David Tennant and Michael Sheen that captures the wild-eyed numbness and panicked lethargy of the first round of stay-at-home orders so well it probably should be put in a time capsule.
Written by and also costarring British theatrical director Simon Evans, "Staged" follows a fictionalized version of Evans as he attempts to wrangle fictionalized versions of Tennant and Sheen into remote-rehearsing a production of "Six Characters in Search of an Author," which they had all been scheduled to do before the pandemic hit.
The result is a gently pointed send-up of the theater — all the world may be a stage but those who actually work on one often display a very special mix of ego and insecurity — but it's also an exploration of the self-doubt many experienced when suddenly cut off from the shared rituals and rigors of their professions.
It's a small show, only six episodes (though it, like the lockdown, just got a second season) and, while it debuted on Hulu in September, it hasn't gotten a ton of attention here. Fittingly, I discovered "Staged" through one of those internet wormholes many of us have been falling into with alarming regularity during our work-from-home days.
I had been rewatching "Doctor Who" and had just gotten to "The Doctor's Daughter," an episode in Season 4 that has one of the most remarkable behind-the-scenes pedigrees of any television episode ever. In it the Doctor (Tennant) is granted, through true Whovian clonishness, a "daughter," who is played by Georgia Moffett. Moffett is the actual daughter of Peter Davison, who played the Doctor in the early 1980s. After filming, she began dating, and then married, Tennant.
That's right, the daughter of one Doctor became the wife of another Doctor after starring in "The Doctor's Daughter."
Furthermore, they were married on New Year's Eve 2011 and had a reception the next day in Shakespeare's Globe theater, and I know this not because I was invited (though clearly I should have been) but because my family and I were in London that Christmas. When we tried to visit the Globe around that time, we were told it was closed for a private event. Being arrogant American tourists, we found this irritating, until we learned what the event was, and then it was fine because everyone in our family loves "Doctor Who" and it was just so damn romantic.
So as I watched "The Doctor's Daughter," I wondered, not that it's any of my business, if the marriage had lasted. A Google search revealed that indeed it has, and now includes five children, thanks. Not only that but the couple was currently starring in a pandemic-related series called "Staged," available on Hulu.
So obviously, there was nothing else to do but spend the next three hours of my life watching versions of three households — the Tennants, Sheen and girlfriend Anna Lundberg (also an actor), and Evans and his sister, Lucy— cope with life in lockdown. (Also appearances by Nina Sosanya, as a very tense agent, and guests so Very Special I'm not going to name them and spoil the surprise.)
In other words, it was altogether divine.
Tennant and Sheen are always terrific, separate or together, as proven by their marvelous chemistry in "Good Omens," an Amazon show that's mentioned several times in "Staged." Georgia Tennant gives a pitch-perfect performance as a working mother who has decided that gentle humor, while not precluding pointed observation about things like the division of labor, is the best setting for survival. And Evans' nervous wreck of a director nearly steals the show at times.
It is a scripted series but there is a lot of improvisation, and though the plot may be a bit thin, it is built like a genuine television show, with multiple storylines and scene-placing exteriors.
Much of it consists of Zoom conversations between the main characters, with both Tennant and Sheen slowly disappearing into their pandemic beards and exhibiting increasingly obsessive behavior. (Tennant spells words backward in his head and refuses to change his hoodie; Sheen believes the birds are conspiring against him and admits to drinking perhaps a bit more than is good for him.)
But there is also footage of a shut-down London, sweeping vistas of the British countryside and, more important, remotely or self-filmed scenes from many rooms in two of the three homes. All of which makes it feel like an actual television series, a blur between reality and sitcom.
While David mopes around, wallowing in his angst, Georgia is a model of multitasking, caring for the kids, finishing a novel and, at one point, helping a friend give birth. Evans, fretting over having his big break yanked out from under him, has moved into his sister's home, with the understanding that she is in France with her boyfriend. When Lucy returns, the two revert to basic adult-sibling behavior; they are the only cohabitants in the show who do not have to try to be patient with each other.
There are just enough references to the actual pandemic to keep "Staged" from being pure fantasy, but it's hilarious, endearing and all very resonant, especially for those of us lucky enough to work from home.
Well, maybe not the bits in which Sheen and Tennant try to one-up each other with past Shakespearean roles. Or the moments when they wax nostalgic for the star treatment they received on sets. But in general, the meltdowns, listlessness and inevitable friction between those isolating together are as universal as it's going to get with celebrities involved. Sheen especially captures the wild-eyed lunacy of those early days; as Tennant observes, he would make a very good Lear.
Maybe that will happen in Season 2.
'Staged'
Where: Hulu
When: Any time
Rating: TV-14 (may be unsuitable for children under the age of 14)
Click Here to See the Article.
---
Staged Season 1 – Best comedy series – TV Zone Best Of 2020 Awards
Click here to see the article.
Staged Season 2 – interview with David Tennant and Michael Sheen
TV Guide – January 2020
Staged Season 2, Pick Of The Day for Monday 4th January
TV Times – January 2021
Staged Season 2 cover story and interviews – TV choice
January 2021
Staged: BBC One – Bleeding Cool TV Top 10 of 2020
Bleeding Cool – By Ray Flook – 24 Dec 2020
Welcome back to Bleeding Cool TV's Top 10 of 2020- a look at the year in broadcast, cable, streaming, and online television with our focus on the best and brightest in what continues to be an ever-growing pool of quality content. This year, it's important for us to recognize just how much Television stepped up in the face of a global pandemic as other mediums left their audiences to go it alone. Not Television. Television stepped up to make our lockdown times a little more sane- a bit more bearable. From live-streaming table reads to tweet-a-longs with shows' best and brightest offering fans new content to productions going into massive "bubble modes" to knock out as much content as possible. In 2020, Television proved once again what it's always been. A reflection of what we've been, who we are, and who we have the potential to be in the toughest of times. A series that found a way to reflect our current pandemic times while still giving viewers a moment to smile was Simon Evans and Phin Glynn's Staged.
Premiering on BBC One in June 2020, the series used video-conferencing technology to offer viewers "meta fictionalized" versions of Michael Sheen (Prodigal Son) and David Tennant (Doctor Who) as they attempt to rehearse a performance of Luigi Pirandello's Six Characters in Search of an Author– without driving director Simon Evans (playing themselves) totally off the rails in the process. Here's what Bleeding Cool writer Adi Tantimedh had to say as to why Staged was deserving of making the cut:
"'Staged' is arguably the most successful TV show conceived, shot, and broadcast in Lockdown. British TV has leaned in on addressing and portraying life in lockdown than anywhere else. They produced more dramas during and set in Lockdown than the US did, and without treating it as a gimmick. 'Staged' on the BBC is the only lockdown sitcom to not only be a bonafide hit but also get a second season," Tantimedh explained.
"With David Tennant and Martin Sheen playing exaggerated versions of themselves, the show is a spiritual sequel to Good Omens. It's not enough to just slap these actors on a zoom screen and expect them to deliver. There needs to be a script, plots, B plots, arcs, and comedy. Tennant and Sheen's chemistry and ability to bounce jokes off each other. It's a glorious satire of social faux pas, of actor insecurity, of the classic British fear of embarrassment and small acts of bad faith and dishonesty that blow up in people's faces," he continued. "It's the kind of comedy you get from 'The Larry Sanders Show' where the real and fictional blur and 'Curb Your Enthusiasm' where minor embarrassing situations escalate into social disasters. The supporting cast also becomes perfect foils for the stars: Sheen and Tennant's real-life spouses Georgia Tennant and Anna Lundberg, Nina Sosonya as an intimidating producer, series creator Simon Evans as a nervous, snivelly and disastrous version of himself all add to the mix as well as the unexpected celebrity cameos. 'Staged' is that rare lockdown comedy that leans into its lockdown gimmick and creates something unique and hilarious."
Click Here to See the Article.
The 10 Best British TV shows of 2020
Mashable – 24 Dec 2020 (UK)
5. Staged: "If there was a show that embodied the feelings of being at home during the first few months of the COVID-19 pandemic more than Staged, I'll eat my hat. Good Omens buddies David Tennant and Michael Sheen teamed up to create a show filmed entirely over video call, and it hit the experience of working from home during this anxious time on the head.
The premise is simple: Tennant and Sheen basically play themselves, as two actors whose West End play has been paused due to COVID-19. Their wildly intimidated, long-suffering director has them continue rehearsing online, which leads to constant down-the-camera bickering and some relatable awkward moments with the exceptional support cast — mainly the ever-excellent Nina Sosanya. Judi Dench and Samuel L. Jackson also make hilarious appearances. But among all the at-home jokes, the show deliberately catches you in lighthearted moments with subtle reminders of the severity of the situation we all continue to inhabit — a silly row with a neighbour over invaded recycling bins becomes chillingly real in an instant with one line of dialogue." -S.C.
Where to watch: BBC iPlayer or Netflix
Click Here to See the Article.
State of the Arts: From folklore to Tenet to Kitchen Disco – the year the arts became more necessary than ever
Covid changed everything in 2020, but artists, musicians and writers set out to inspire, guide and comfort us, says Rupert Hawksley, and we discovered new ways of interacting with them.
The Independent – 25 Dec 2020 (UK)
"But the diminishing of the big screen allowed the small screen to thrive. BBC Two comedy Staged, starring David Tennant and Michael Sheen, was filmed entirely over Zoom and was an unexpected triumph: intense and weird and claustrophobic. In fact, the pandemic ushered in a whole new genre of television, characterised by short episodes, shot remotely, often on shaky cameras."
Click Here to See the Article.
From Jude Law in the sea to bemused vampires: readers' TV hits of lockdown
For all the bingeing time it afforded, this has been a testing year. Here are the shows that did most to cheer you up.
The Guardian – 25 Dec 2020 (UK)
It came at a perfect time in lockdown, when we could all connect with Zoom gaffes and boredom. The chemistry between David Tennant and Michael Sheen is incredible and even the credits became a running joke. Mari Nowell, Bridgend
Click Here to See the Article.
Staged: Television of the Year
Sight & Sound – winter 2020/2021 (UK)
"Staged managed to provide something joyful, distinctive and reflective of the global situation just when we needed it most, and was turned round to broadcast in mere weeks. We should not just be thanking the TV series and dramas of this year. We should also praise the TV programme-makers who had to reinvent the ways they make their programmes so that shows could continue to air". (Scott Bryan)
Staged: The 20 Best TV Shows of 2020
Junkee (Australia), December 16, 2020
One of the very few good things that came out of the pandemic. Staged forces David Tennant and Michael Sheen (playing themselves) to rehearse a play over video chat due to you-know-what. Director Simon Evans (also playing himself) tries to keep things on track but his cast want to do anything but rehearse. Staged avoids being exploitative because it's a witty and cathartic exploration of lockdown life with a huge heart.
You can stream it on ABC iView.
Click Here to See the Article.
Staged: The 20 Best TV Shows of 2020
The List (UK), December 16, 2020
Probably the best lockdown series of the summer, Michael Sheen and David Tennant played, we assume, accurate versions of themselves as jocular then warring acting buddies brought together over Zoom to rehearse the play that they will put on stage once life gets back to normal. Nothing, though, quite ever goes to plan. In short, snappy 15-minute instalments, this was a genuine treat amid the gloom.
Click Here to See the Article.
David Tennant and Michael Sheen join Graham Norton Show guests
A good omen for next month.
November 23rd, 2020
By Dan Sedon (Digital Spy)
Good Omens duo David Tennant and Michael Sheen will grace The Graham Norton Show with their presence next month.
In the episode airing Friday, December 18, the two popular actors join Hollywood icon George Clooney, Oscar-winner Viola Davis and Vanessa Kirby to promote their latest joint endeavour: Staged series two.
Michael Ball and Alfie Boe have been given the musical spot, where they'll get us in the festive spirit with a performance of 'Have Yourself a Merry Little Christmas'.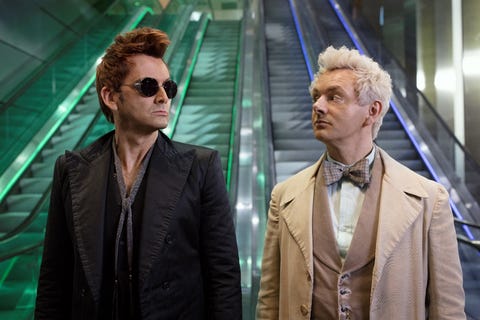 Starring opposite Felicity Jones (Rogue One: A Star Wars Story) and Kyle Chandler (The Wolf of Wall Street), Clooney will be chatting about his new Netflix sci-fi flick The Midnight Sky, which is based on Lily Brooks-Dalton's novel Good Morning, Midnight.
Other movies set to be the topic of discussion that night are Ma Rainey's Black Bottom – featuring the last-ever performance from the late Chadwick Boseman – and awards-hopeful Pieces of a Woman.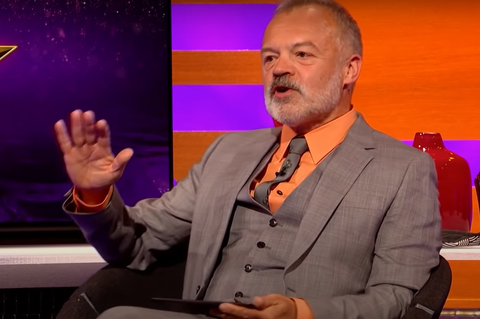 Despite his ability to "zone out" during superstar interviews, Norton's wonderfully talented guests in this episode certainly shouldn't pave the way for that to happen.
"You zone back in and they're still talking and you think: 'I wonder if I've missed anything?' But, you probably haven't," he previously confessed, according to The Sun's Bizarre TV column.
"That's the trick. It's just yakkety yak. If I'm on it, I'm listening. I'm still bored."
The Graham Norton Show continues this Friday (November 27) on BBC One.
Click Here to See the Article.
Michaela Coel, Lenny Abrahamson, 'The Masked Singer' Win at Royal Television Society Craft and Design Awards
November 23rd, 2020
By Naman Ramachandran (Variety)
Michaela Coel, Lenny Abrahamson's "Normal People" and "The Masked Singer" were among the winners of the U.K.'s Royal Television Society (RTS) Craft & Design Awards.
Coel won the 2020 RTS special award for her groundbreaking BBC/HBO show "I May Destroy You." In presenting the award to Coel, the judges said: "This piece sits in the true spirit of the craft and design Awards. The astonishing level of detail in all aspects of this production was humbling to see. A truly distinctive, highly creative and exemplary piece of work, in which the winner had also corralled outstanding demonstrations of expert craft skills across all the production disciplines."
Lenny Abrahamson won best director of drama for smash hit BBC/Hulu show "Normal People." "Beautiful, stylish and confident. This was the work of an elite director, skilfully providing the space for his actors to shine and their chemistry to transmit through the lens. Nuanced, but always sophisticated, Abrahamson was magnificent in conjuring up all the angst, confusion and excitement of a first love. His portrayal of class and adolescence was thoughtful, cliché-free and totally captivating from start to finish," said the judges. "Normal People" also won the photography for drama and comedy category for Suzie Lavelle.
Elsewhere, "The Masked Singer" team won the costume design category, while veteran casting director Nina Gold ("Game of Thrones," "The Crown") won the outstanding achievement award.
Winners
Casting Award
Yoko Narahashi, Shaheen Baig & Layla Merrick-Wolf – "Giri/Haji" (Duty/Shame)
SISTER for BBC Two & Netflix
Costume Design – Drama
Lynsey Moore – "I May Destroy You"
Various Artists & FALKNA for BBC One & HBO
Costume Design – Entertainment & Non Drama
Tim Simpson, Derek McLean, Daniel Nettleton & Claire Horton – "The Masked Singer" (series 1)
Bandicoot Scotland & Plunge Creations for ITV
Design – Program Content Sequences
Made in Colour "My World – Dadaab Refugee Camp"
BBC World
Design – Titles
Titles Team "His Dark Materials"
Bad Wolf for BBC One & HBO
Director – Comedy Drama/Situation Comedy
Ella Jones – "Enterprice" (series 2)
Fudge Park Productions for BBC Three
Director – Documentary/Factual & Non Drama
Waad al-Kateab & Edward Watts – "For Sama"
ITN Productions for Channel 4 & PBS
Director – Drama
Lenny Abrahamson – "Normal People"
Element Pictures for BBC & Hulu
Director – Multicamera
Bridget Caldwell – "The Royal British Legion Festival of Remembrance"
BBC Studios for BBC One
Editing – Documentary/Factual
Abraham Teweldebrhan – "Tyson Fury: The Gypsy King"
Optomen Television for ITV
Editing – Drama
Pia Di Ciaula – "Quiz"
Left Bank Pictures for ITV
Editing – Entertainment and Comedy
Dan Gage – "Staged"
Infinity Hill & GCB Productions for BBC One
Editing – Sport
Joe Snell, Kevin Evans & Paul Roberts ' "Time for a new season BT Sport Europa League final & BT Sport Champions League final"
BT Sport
Effects
Framestore, Russell Dodgson, Dan May & Danny Hargreaves – "His Dark Materials"
Bad Wolf for BBC One & HBO
Lighting for Multicamera
Nigel Catmur – "VJ Day 75: The Nation's Tribute"
BBC Studios for BBC One
Make Up Design – Drama
Shabana Latif and Avan Contractor – "A Suitable Boy"
A Lookout Point Production for BBC One
Make Up Design – Entertainment & Non Drama
Sheldon Wade – "Frayed"
Merman Television in association with Guesswork Television for Sky One
Multicamera Work
Suri Krishnamma & Camera Team – "Performance Live: The Way Out"
Battersea Arts Centre for BBC Four
Multicamera Work – Sport
IGBS Camera Team ' "The Rugby World Cup Semi Final 2019 England v New Zealand"
IGBS (JV between IMG and HBS) for ITV
Music – Original Score
Nainita Desai – "For Sama"
ITN Productions for Channel 4 & PBS
Music – Original Title
H. Scott Salinas – "Baghdad Central"
Euston Films for Channel 4
Photography – Documentary/Factual & Non Drama
Olivier Sarbil – "On The President's Orders"
Mongoose Pictures for BBC Storyville
Photography – Drama & Comedy
Suzie Lavelle – "Normal People"
Element Pictures for BBC & Hulu
Picture Enhancement
Adam Dolniak "Rise of the Nazis"
72 Films for BBC Two
Production Design – Drama
Joel Collins – "His Dark Materials"
Bad Wolf for BBC One & HBO
Production Design – Entertainment & Non Drama
Dennis De Groot – "The Goes Wrong Show" (series 1)
Mischief Screen & Big Talk Productions for BBC One
Sound – Drama
Howard Bargroff, Tim Barker, Steve Browell & Marc Specter – "Baghdad Central"
Euston Films for Channel 4
Sound – Entertainment & Non Drama
Nick Fry, Mick Duffield & James Evans – "The Last Igloo"
Swan Films for BBC Four
RTS Special Award
Michaela Coel – "I May Destroy You"
Various Artists & FALKNA for BBC One & HBO
Click Here to See the Article.
---
'Staged': BBC Renews David Tennant & Michael Sheen Lockdown Comedy; Ben Schwartz Joins Cast
October 22nd, 2020
The BBC has commissioned a second season of Staged, the lockdown comedy starring Good Omens actors David Tennant and Michael Sheen that secured pick-up from Hulu in the U.S.
The first season of the Infinity Hill, GCB Films and No Mystery-produced show featured Tennant and Sheen mounting Zoom rehearsals for their furloughed West End theatre production during the pandemic.
Season 2 sees the pair attempt to navigate the world of "virtual Hollywood" while keeping their increasingly fragile egos intact. Parks and Recreation star Ben Schwartz joins the cast as an assistant to their American agent.
Georgia Tennant, Anna Lundberg and Lucy Eaton, Nina Sosanya and Simon Evans also return for the second run of the show, which was created by Evans and Phin Glynn.
Evans writes and directs. The producers are Glynn, Victor Glynn and Georgia Tennant. Tennant and Sheen are executive producers alongside Axel Kuschevatzky and Cindy Teperman for Infinity Hill, and Geoff Iles for GCB.
Sheen said: "It's been so great to see how much people enjoyed the first series. Seemed like the laughs were much appreciated. It made us really excited about taking it further and going in some surprising and hopefully enjoyable directions this time
Click Here to See the Article.